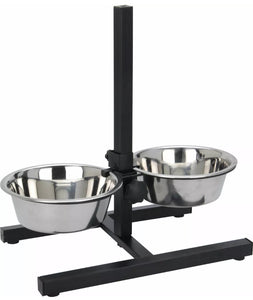 Price includes Nationwide Delivery An Post Tracked (3-6  working days) 👍🚚
Stainless Steel Pet Bowl with Adjustable Stand!
This adjustable stainless steel water and food bowl for pets is perfect for separating big and small pets whilst they eat. Alternatively it can be used for older dogs who struggle to bend down as far as the used to.
Technical specifications
Includes: 2 x stainless steel pet bowls with an adjustable stand

Stainless steel design suitable for food and water

The bowl height can be anywhere between 8cm - 40cm from the floor

Bowl Dimensions: 19cm diameter, 1.8ltr volume

Stand dimensions: 40cm x 37.5cm x 46.5cm

Stand is supplied with rubber feet to prevent damaging the floor

Easy to use and great for anyone with pets!